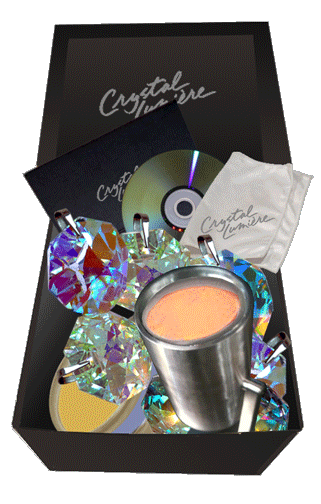 Imagine having the ability to transform any environment with an ever-changing, ever-evolving kaleidoscope of color and light, soothing yet spectacular all at the same moment. Crystal Lumière™ Prismatic Art Installation Kits are more than mere decoration or lighting … they transform your space with a fascinating display of illumination, movement and color.

The Crystal Lumière™ Prismatic Art Installation Kit allows people anywhere to enjoy Gail R. Mitchell's enchanting creations when a custom installation is impractical.  Gail has crystallized her vast experience in creating crystal art and fine-tuned it to create an exciting prismatic art installation kit that holds a mini-masterpiece waiting to be revealed.   Crystal Lumière™ allows you to create your own three-dimensional art experience, just like Crystal Illumination Art's™ extraordinary custom installations.

Each kit is thoughtfully designed and shipped to you in environmentally friendly packaging. It provides everything you will need to create your own prismatic art painting including seven exquisite 60mm Aurora Borealis octagon crystals by Swarovski Elements®, sterling silver bails hand-crafted by international jewelry designer Pepe Cerroblanco, and a custom designed lamp with special lighting elements for creating multiple effects. Additional and replacement components can be purchased separately.

Contact us to order crystals, bails, lamps (in standard or custom colors) or custom-colored optical glass filters.